RomReal Ltd (RomReal) is focused on practicing good corporate governance, which will strengthen confidence in the group and thereby contribute to the best possible long-term value creation to the benefit of the shareholders, the employees and other stakeholders.
The purpose of its principles for corporate governance is to regulate the division of roles between shareholders, the Board and the executive management more comprehensively than is required by legislation. The Norwegian code of practice for corporate governance (the code) has been issued by the Norwegian Corporate Governance Board (NCGB). It builds on the principle of "comply or explain", whereby companies must either comply with the code or explain why they may have chosen an alternative approach. It also requires the Company's report on its corporate governance to address all 15 sections of the code. The Oslo Stock Exchange stipulates that listed companies must provide an overall presentation of their corporate governance principles in accordance with the applicable code, and that this must be included in their annual report. RomReal's principles for corporate governance are based on the recommendation of 21 October 2009, which can be found at www.nues.no.
Corporate Social Responsibility and Sustainability are becoming essential elements of the Real Estate agenda. For Real Estate the Corporate social responsibility is a real opportunity to improve business performance, the interests of shareholders and do something for the planet at the same time. A well run and profitable company that adheres to the law, that is properly regulated and operates in competitive markets is making a positive economic and social contribution. Workers are rewarded, products and services are sold and all this as the business strives to establish and develop beneficial and collaborative relationships with all parties. The pursuit of profit has a social purpose.
The implications for Real Estate in Corporate Social Responsibility are clear:
Real Estate can contribute directly to the sustainable performance of the business
Real estate has a direct impact upon society and the environment
Real Estate experts need to acquire the skills needed to make their contribution
The management of risk and liability will demand greater input from Real Estate
Real Estate will make a more important contribution to corporate governance
Workspace standards will improve and be subject to external audit
The commitment to transparency, integrity and sustainability is what makes Romreal a responsible company. These core values guide all of our efforts whether it is our unwavering commitment to creating shareholder value, our dedication to protecting the environment, or our pledge to contribute in meaningful ways to society at large.
We prepare individuals, societies and markets for succeeding in the knowledge economy. In support of this mission we are committed to responsible business practices that enhance the economic, social and environmental well-being of the communities where we work and live.
It is done quarterly by publishing the Top 20 Shareholders List.
Which country's rules regarding disclosure of shareholdings that apply, and which authority that supervise the rules?

Bermuda.

What is the thresholds triggering disclosure?

The threshold triggering disclosure it is not "disclosure per say. The approval from the BMA is needed when anyone owns or proposes to own > 5% of the company.

Where published shareholding disclosures are available?

The share register is available for review at the Company's registered office at Victoria Place (Ground Floor) 31 Victoria Street, Hamilton, Bermuda.

What is the deadline for making the disclosure, and where to send it?

There is not a specific deadline, but a transfer or ownership is not official until BMA approval is received. Disclosures can be sent to info@romreal.com or by fax to +40312244306.
Introduction

RomReal's ambition is to bring Western standards of development to the Romanian real estate market. In doing so, we believe we are improving the quality of life for all residents, and delivering a habitat which is both cost and energy efficient to live in. Our ambition is being delivered through a focus on a range of areas, ensuring that Western standards of quality are accompanied by Western standards of sustainability.

Energy

RomReal is very conscious of the impact that energy generation and usage has on our planet. From initial site surveys, through to the specification of fixtures and fittings, we aim to identify the most energy-efficient solutions. We are constantly seeking more intelligent and sustainable approaches to building design, construction and materials. Most importantly, we place great emphasis on creating spaces that are inspiring to live in, and support a low-energy, sustainable lifestyle.

Water

RomReal understands that water is a precious resource. All our developments consider ways in which usage can be reduced, both during construction and occupancy. Where possible, we specify ways of increasing the efficiency of water usage within the infrastructure of our developments, delivering responsibility and cost-efficiency.

Materials

RomReal is aware of the impact that our choice of materials can have. We select all our construction materials very carefully, protecting natural resources, reducing carbon emissions, and providing a safe and healthy environment for the residents in all our developments.

Waste

RomReal is mindful of the need to manage (and wherever possible reduce) waste across the company's operations – from all stages of the build process to the use of recycled paper for marketing communications. We also endeavour to support and encourage residents in their own recycling efforts.

Transport

By providing ample car park spaces within each development, RomReal acknowledges the importance of the motor car as a preferred means of transport. However, we also include secure storage facilities for cycles, and when possible, we locate developments close to existing transport networks and local shopping facilities to reduce cardependency.

Landscaping

As a responsible developer, RomReal is aware of the importance not just of our buildings, but of the microenvironment that surrounds them. From the beginning of every project, we look for ways to create a landscape which uses existing resources intelligently, and offers efficient ongoing maintenance. We focus on the needs of the existing community, new residents and the bio-diversity of the local environment to shape landscapes that respect nature and add value to our developments.

Community

RomReal is completely dedicated to its communities. Both the existing local residents (where they exist) and the new communities that will inhabit our developments. We work on everyone's behalf to conceive and build developments that facilitate a healthy, enjoyable and sustainable lifestyle. Essentially, from introducing improvements to the local infrastructure, to including spaces for socialising and local amenities, we aim to build sustainable communities for everyone.

Healthy Living

RomReal recognises our responsibility to support healthy lifestyles and meet the needs and aspirations of residents. We seek to maximise the natural benefits of sunlight, daylight and open space within each of our developments. Where possible, we offer on-site leisure and communal facilities and integrate ways of providing residents with access to fresh food produce.

Education

RomReal seeks to deliver sustainable development through its ethical policy and working practices. Our terms of reference include requirements for economic and social progress at a local level. We are proud to support educational initiatives, both those that spread best practice in sustainable development, and those that enhance the local educational infrastructure in general. We see ourselves as an enduring partner for the region, and want to create lasting improvements that raise standards of living and employment for the next generation.
In the event of a bid for the parent company's shares, the Board and the executive management will ensure that everyone gets access to sufficient information to be able to reach a decision on the offer. Unless otherwise instructed by the general meeting, the Board will not deploy defensive mechanisms to prevent the implementation of the bid. The Board will provide shareholders with its view of the offer and, providing they have reached a decision on this, Directors are duty-bound to inform shareholders whether they personally intend to accept the bid. Should the Board find that it is unable to recommend whether the shareholders should accept the bid, it will explain the reasons why such a recommendation cannot be given. An explanation must be provided if the Board's decision is not unanimous. The Board will consider whether an assessment should be obtained from an independent expert.
Bermuda is a mid-Atlantic archipelago 1,000 km from the USA; it is not in the Caribbean (1,500 km to the south). Bermuda is a self-governing Crown dependency. It is politically stable; English is the official language; and the Bermudian dollar is at parity with the US dollar. Population is 69,080 (July, 2012 est.) and growing despite limited land availability. The islands are rich: Bermuda's GDP in 2010 was over USD5.85 billion, giving a GDP per head of more than USD91,477. Gross National Income per Capita in 2010 was USD89,935 and expected to exceed USD99,000 in 2011.
By excluding foreign banks until recently, Bermuda avoided problems and grew as a reputable international finance centre with three of its own widely-branched banks. Financial services account for a significant majority of GNP; tourism is also important, with more than 400,000 visitors a year, mostly from the US. The Bermuda Stock Exchange (established 1973) trades electronically and provides global access to its settlement systems. In 2012, Bermuda counted four banks, only one of the them being local.
Bermuda has particularly strong insurance, investment fund and trusts sectors, with very well-developed advisory and financial infrastructure. The Bermuda captive insurance sector is the world's largest. Hamilton is a British port of registry. There is a sophisticated infrastructure including the major international law and accounting firms. The Government intends to encourage the development of e-commerce in Bermuda and has put effective legislation in place.
There is no income tax, capital gains tax, VAT, sales or use tax or wealth tax. Annual government fees are imposed on businesses and there is a payroll tax. Local businesses must be controlled by Bermudians but offshore operations take place through 'exempt' or 'permit' companies. Due to an error in Brussels, Bermuda is not subject to the EU's Savings Tax Directive.
In June 2000 Bermuda signed a letter of commitment to the OECD agreeing to conform with international standards of transparency and financial supervision. As a result it was not included on the OEDC's Financial Action Task Force 'Black-List' of unco-operative jurisdictions. In April, 2009, Bermuda was placed on the OECD's 'grey' list, but removed on June 8, 2009, following the signing of a Tax Information Exchange Agreement with the Netherlands.
The articles of the company
Home State – BERMUDA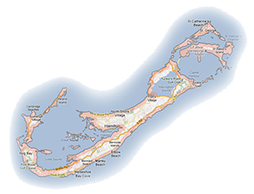 Bermuda is a mid-Atlantic archipelago 1,000 km from the USA; it is not in the Caribbean (1,500 km to the south). Bermuda is a self-governing Crown dependency. It is politically stable; English is the official language; and the Bermudian dollar is at parity with the US dollar.
TOP